Windemere Amenities
North Myrtle Beach's Windemere oceanfront resort is full of amenities inside and out. They are convenient and help to make your beach vacation superb. Not only do you have easy beach access at Windemere, your family will also enjoy a sun deck, comfortable condominium accommodations and covered parking.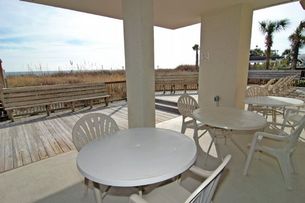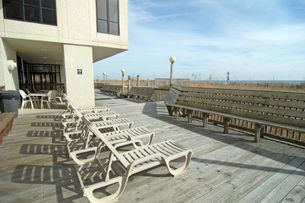 Sleeping Accommodations
Sleeping accommodations at Windemere means a master suite with a balcony door. The three-bedroom condominiums at Windemere sleep eight people and the four-bedroom condominium rentals accommodate up to 10 people, making Windemere a great place to bring extended family and friends on a North Myrtle Beach vacation with you.
Condominium Furnishings
Each Windemere vacation condominium rental features a living room with large windows and doors that look onto the beachfront and the private balcony. Settle in for conversation, television and family games in the comfortable living room of each Windemere vacation condo. A dining area and well equipped kitchen encourage families to make their own meals, serve breakfast at the breakfast bar and brew a pot of coffee each morning of their North Myrtle Beach vacation.
Oceanfront Location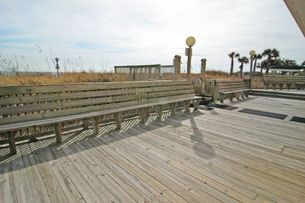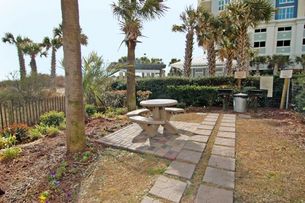 There is nothing better than being right on the ocean for a family beach vacation. Wake every morning to the sound of crashing waves and watch the Myrtle Beach sunrise over the Atlantic Ocean. Sunlight streams into the Windemere condominiums and a gentle sea breeze keeps visitors cool. The wooden boardwalk that leads to the white, sandy beaches is right in the middle of the oceanfront sun deck at Windemere.
Swimming Pool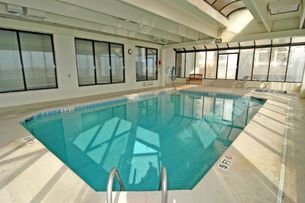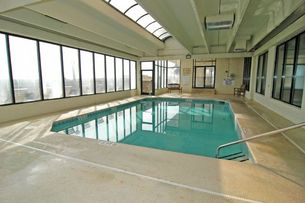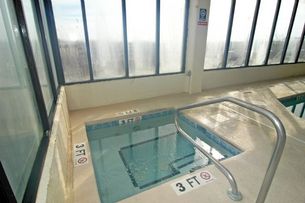 Splash and play in the indoor swimming pool at Windemere. The walls of windows look onto the sun deck and let the light shine in so you don't miss any of the action on the sun deck and beach while you swim inside. A hot tub is found beside the sparkling blue swimming pool and is a wonderful respite when your feet are tired from shopping the Myrtle Beach boutiques and outlet malls all day and your golf swing has made your shoulders weary after 18 holes of Myrtle Beach golf.
Beaches
Kick off your shoes and follow the path over the dunes and out to the warm sand. The beaches are wide at low tide and the sandy beachfront turns exciting as the tide comes in and the waves get big. For a snack and some rest, retreat to your Windemere vacation condominium because it is only steps away from the oceanfront. Take a surfing lesson, fish from shore, swim, snorkel and SCUBA dive during your North Myrtle Beach vacation.
Laundry
You won't have to go far to handle some vacation laundry. A washing machine and clothes dryer are provided for you in your Windemere three- or four-bedroom condominium. How convenient! Do laundry in the comfort of your oceanfront condo, while you prepare a park picnic in your condo's kitchen or while you swim in the indoor swimming pool. You don't have to take time out of your North Myrtle Beach vacation fun to do laundry when you vacation at Windemere.
Kitchen
Windemere kitchens are outfitted with full-size appliances and plenty of countertop space. The U-shaped kitchen is spacious and features a breakfast bar for easy serving. You'll find that the kitchens at North Myrtle Beach's Windemere condominiums are well stocked with all the utensils, small appliances and dishes you need to prepare a gourmet meal during your beach vacation.
Parking
Park the family car in the Windemere parking garage. Three levels of parking mean plenty of space for you to find covered parking and easy access to an elevator that will whisk your family up to the floor of your oceanfront condo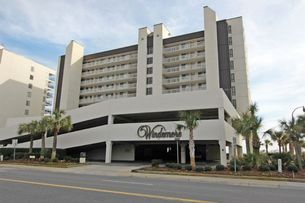 Property Location
Location: Oceanfront
Area: Ocean Drive
523 South Ocean Blvd
888-617-6399
Disclaimer
Elliott Beach Rentals is not affiliated with onsite management or the HOA of this complex.